Healthy eating doesn't mean having to eat bland tasteless foods or giving up some of your favorite foods. It doesn't mean having to spend a fortune on specialty organic foods either. In fact, everyone can learn to eat healthier by making small simple changes to their current eating habits.
Healthy eating should be thought of as a lifestyle change and not a short term diet. Rather you want to eat healthy in order to lose weight or just improve your health these quick and easy tips will get you started.
Healthy Tip #1 – Less Sugar
Refined sugar is a processed ingredient that gives you no nutritional value. These empty calories can add up fast and can make you go over your calorie intake limit. Too many calories will lead to weight gain. Try to minimize treats high in sugar or look for the sugar free versions of your favorite sweets.
Be aware of the sugars in your drinks as well. A regular flavored soda has about 100 calories and 10 teaspoons of sugar. Drink diet pop, or better yet, water. Studies have shown that people who switch to diet drinks and water instead of regular flavored sugary drinks lost up to 20 pounds in one year with just this change in their lifestyle. Fruit drinks can also be high in sugars and calories so minimize these to just one 8 ounce glass a day.
Healthy Eating Tip #2 – Protein with Every Meal
Be sure to get protein with every meal. Protein requires more energy to digest which means you are burning more calories to process these foods. Your protein can come from eggs, beans, lean cuts of meats, fish and even tofu.
Protein not only helps burn more calories but helps to build lean muscle mass. The more lean muscles you have the higher your basal metabolic rate. This is the rate at which your body burns calories while doing everyday normal activities including sleeping. Your metabolic rate is responsible for 60% to 70% of the total calories you burn in a day.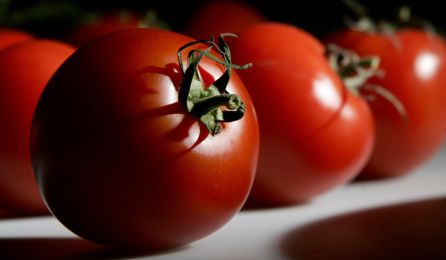 Healthy Eating Tip #3 – Natural is Best
Eating foods in their most natural state will give you the most "bang for your buck". Meaning you will get a higher nutrient value from the foods in their natural state. Foods that have been processed lose some of their nutritional value and often increase the fat and/or calorie content.
For example, a large apple has 110 calories, 0 fat grams, 29 carbohydrates, 5 grams dietary fiber and 1 gram of protein. However a large glass of apple juice has approximately 150 calories, 0 fat grams, 36 grams of carbohydrates and 0 grams of dietary fiber and protein. So you can see that in the processed juice state there are more calories and carbs and less dietary fiber and protein.
Healthy Eating Tip #4 – Select Whole Foods
While eating foods in their most natural state is best there are times when you will need processed foods. Breads and pastas are good examples of foods that cannot come in a natural state as they don't grow on trees or in the ground. When selecting these processed foods you should find whole grain versions.
When foods are made with 100% whole wheat you are getting more nutritional value that foods made with processed wheat. Wheat in its natural, unrefined state has many nutrients including dietary fiber and is a great addition for your healthy eating lifestyle.
Healthy Eating Tip #5 – Variety is the Spice of Life
You want to make your food selections varied and full of nutrients. Adding lots of different kinds of foods will help you stick to your healthy eating lifestyle and keep it interesting.
There are over 40 nutrients that you should be getting each day. No one food item can provide all of these nutrients, so make your meal plan varied and rich with nutrients. Remember to get the vegetables and fruits in with each meal. A variety of fruits and veggies will give you lots of nutrients and these are generally lower calorie foods.
Be sure to get your calcium needs as well with dairy products. Just select low fat or fat free products like skim milk or fat free yogurt. Studies have shown that people who get 3 to 4 servings a day of low fat dairy products lost more weight than those who did not include dairy in their meal plan.
These are just a few tips to help you make small changes to your lifestyle. By making these simple changes you are on the road to healthy eating for life.
If you liked this post please buy me a cup of coffee to quench my thirst