If you thought that the gym equipment is the final word in working out and there are absolutely no other options to flex your muscles you are wrong! There are so many easy, convenient and effective ways to workout at home
Skipping: Get a simple skipping rope and get started on your fitness regime. Skipping is an excellent way to workout at home. You can start at a slower speed and lesser count and keep on increasing the count and the speed day by day.
Aerobics: Aerobics is an extremely enjoyable form of workout and if you have taken aerobics classes you know that you can easily do it at home yourself! For those who haven't taken any prior training, you can pick up some simple tips from the Internet and get started!
Yoga: Yoga is an excellent way to workout at home since there is no equipment required to practice it. However if you have never tried yoga before it is better to read some books and articles or even get the DVDs which will guide you to get things right.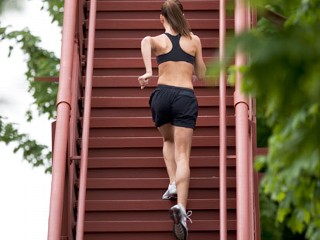 Stair Climbing: Climbing the stairs always seems like a pain – but the fact is that it is a great way to burn those calories and flex your muscles! In case you are looking for an easy way to work out, then climbing the stairs would be a great exercise for you. To increase your stamina, you can slowly increase the number of repetitions after every week or so.
Jogging at Place: If you thought you needed a treadmill to walk or run at home then let me tell you that you can even jog in place so that you can flex your leg muscles. You can even do it while you are watching television or listening to music.
If you liked this post please buy me a cup of coffee to quench my thirst